What readers say:
Lawrence S. Eagleburger, former Secretary of State
"The best description of life in the foreign service—its challenges, dangers, satisfactions, and fun—I have ever seen. It paints a superb picture of life abroad and at home, including both its good and bad aspects, and does a brilliant job of pointing out how our diplomacy must change if it is to meet the tremendous changes and challenges of the twenty-first century."
Ronald E. Neumann, president, American Academy of Diplomacy and former ambassador to Afghanistan
"Current, dispassionate, and accurate, Career Diplomacy is the must read book for those seeking understanding of today's foreign service. From traditional diplomacy to work in the provinces of Afghanistan and Iraq, it is all here."
John R. Galvin, former supreme Allied Commander in Europe and former commander-in-chief, U.S. European Command
"Frank, incisive, and a good read, this book told me many things I never really understood about the foreign service. I don"t know how we got along without it."
Susan Johnson, president, American Foreign Service Association
"A great resource for anyone considering a foreign service career."
Stephen W. Bosworth, dean, Fletcher School of Law and Diplomacy, Tufts University
"Harry Kopp and Charles Gillespie have produced an insightful and comprehensive response to the questions, 'What is the foreign service and why do we need it?' This is a required read for anyone contemplating a career in the foreign service."
Ann Blackman, author of Seasons of Her Life: A Biography of Madeleine Korbel Albright
"A clear, unvarnished look at life in the United States Foreign Service, what works, and what doesn't. Career Diplomacyshould be must reading for every foreign service officer—and everyone else who represents our country overseas."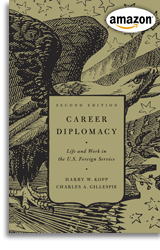 Whether America's diplomacy succeeds or fails depends heavily on its foreign service professionals. The U.S. Foreign Service is little known or understood, but Career Diplomacy fills the gap. It is an insider's guide that explains the service as an institution, a profession, and a career.
Harry W. Kopp and Charles A. Gillespie, both of whom had long and distinguished careers in the foreign service, provide a full and well-rounded picture of the institution, its place in history, its strengths and weaknesses, and its role in American foreign affairs. Based on a primary and secondary sources, including interviews with more than 100 current and former members of the foreign service, the authors lay out what to expect in a foreign service career, from the entrance exam through midcareer and into the senior service.
Career Diplomacy is a candid discussion of the challenges facing this country's diplomats, including tension between politics and professionalism; maintaining credibility when policies change; dealing with Congress on policy, legislation, and budgets; and working in Washington and the field with other U.S. government agencies and with the U.S. military. Career Diplomacy educates its readers about those who advance and protect U.S. interests around the globe. The book details who America's professional diplomats are, their purpose and achievements, and the culture in which they operate. Invoking recent challenges in diplomacy—including a chapter on the foreign service at war in Iraq and Afghanistan—Kopp and Gillespie explore how the service needs to change in the years to come. The authors also include several useful appendices, including the Department of State's organization chart, core precepts of the foreign service, and a list of internet resources.